The Orange Bank launch campaign is the first ever "social first" approach used by a bank in France. With an official announcement and several demonstrations at the Show Hello innovation, a tweet from the CEO's personal Twitter account instead of a press conference, a social media launch well ahead of the commercial launch to provide an inside view of the bank taking shape, and the simple, pared-down style of its concept, the launch is a perfect fit for the new mobile bank, which is outplaying traditional banks all the way down to its advertising.

The campaign, which was created by Havas Paris, rises to the challenge of being both businesslike and disruptive. The launch was overseen by a close-knit team headed up by Havas Paris Senior Vice-President Valérie Planchez, Chief Creative Officer Christophe Coffre and Orange Account Director Antoine Lhuillier, with support from the Havas family (Havas Events, Fullsix and Digital Factory) and a creative media plan from Blue 449.

Orange Bank is centred around new ways of banking, with mobility, simplicity and accessibility at its core. You can pay with your mobile phone, transfer money by text message, block and unblock your card in a flash, view your up-to-date balance instantly and get answers to your questions 24/7 through a virtual adviser. The brainchild of banking experts Groupama Bank and mobile experts, Orange Bank offers the best of both a traditional and an online bank, with support from its network of 140 shops. The internationally recognized and renowned Orange brand has 27 million mobile customers and 10 million broadband customers, and aims to gain two million banking customers by 2025.

This is the first time a bank has been bold enough to combine resources and modern technologies to launch a campaign using such a diverse range of tools. It employs a combination of expertise, content, formats and channels: influence, PR, online PR, social networks, events, graphic design and creative advertising for the requirements of TV, press, billboard and digital campaigns, social networks and POS advertising. Most importantly, in keeping with a bank that thinks services and customer relations differently, the communications strategy has invented a new language, in terms of both style and substance. Inspired by mobile usage, all the content has been designed, shot and produced in vertical format in the right proportions for mobile screens: on a tilted mobile phone, as used in real life, placed on a table, and so on. The approach is simple and realistic. The light is somewhat raw and the scenes are from real life – deliberately imperfect.
A multi-phase launch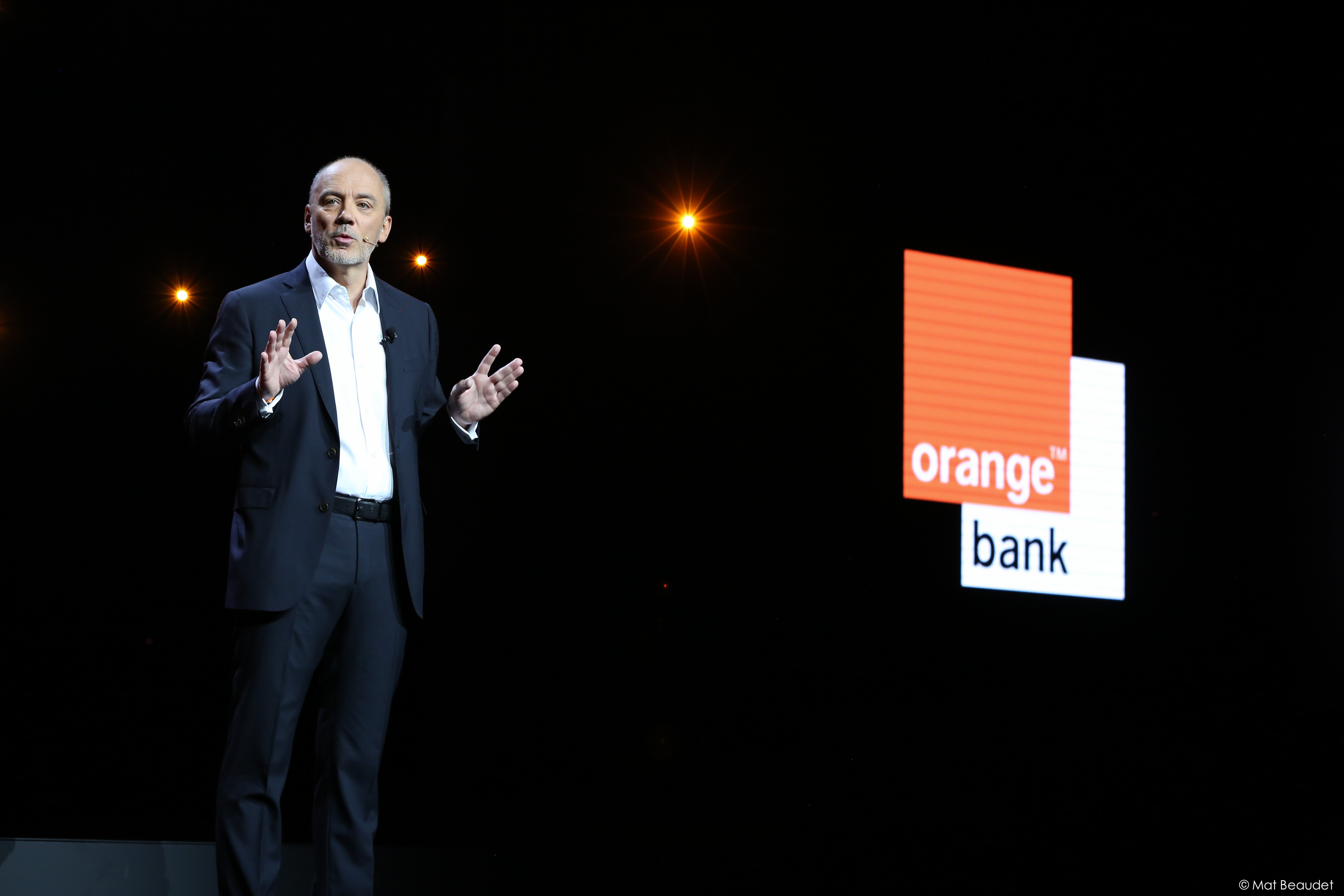 A live announcement in front of 700 opinion leaders
Orange decided to announce the launch of Orange Bank at Show Hello, its annual event dedicated to innovation. On 20 April, 700 opinion leaders, including the media, attended the event and saw the bank's philosophy, functions, innovations and communications approach unveiled. The public also took part in the very first demonstrations of the app's services and features.

An inside look at the bank through social networks
From 20 April, well ahead of the commercial launch, Orange Bank launched its social networks (LinkedIn and the @orangebankfr Twitter account). In the days that followed, users could track the bank's creation in real time, through photos of employees at the controls, footage of them talking about their everyday work, snapshots of the bank's concept, surveys on functions, content editing, newsjacking, and so on, all from behind the scenes of the developing bank. This was the start of the conversation with the online community.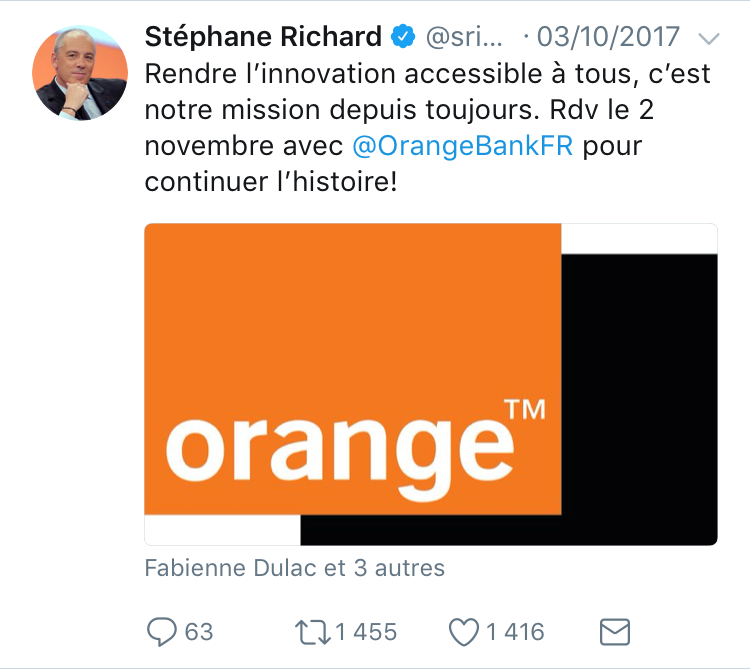 A tweet from the CEO's personal Twitter account
Orange Bank fully embraces its position as a "test and learn" bank and has deliberately chosen to extend its testing phase so it can ensure high quality standards on launch day. On 3 October, CEO Stéphane Richard announced the official launch date for Orange Bank, 2 November, on his personal Twitter account. The news was picked up by all the media.
"The now bank": a tagline of its time
The tagline sums up the immediate and instant element of the bank's services, and is also a nod to the time we are living in and what consumers aspire to – banking as it should be today.

As of 8 a.m. this morning, Twitter users can watch three original video clips of CEO Stéphane Richard personally testing the new bank and its services: the sign-up process, mobile payment and conversation with a virtual adviser. The short films, clearly inspired by hidden cameras, also have a humorous element: Richard pretends to be Xavier Niel, the French telecomms billionaire behind Orange's competitor Free, opening an account for him! The video content was filmed on 31 October and can now be viewed by searching @orange.

As Orange Bank is a brand that makes innovation available to the masses, the campaign uses mass media such as TV, the press and billboards to promote and broadcast its services to as many people as possible very quickly.
​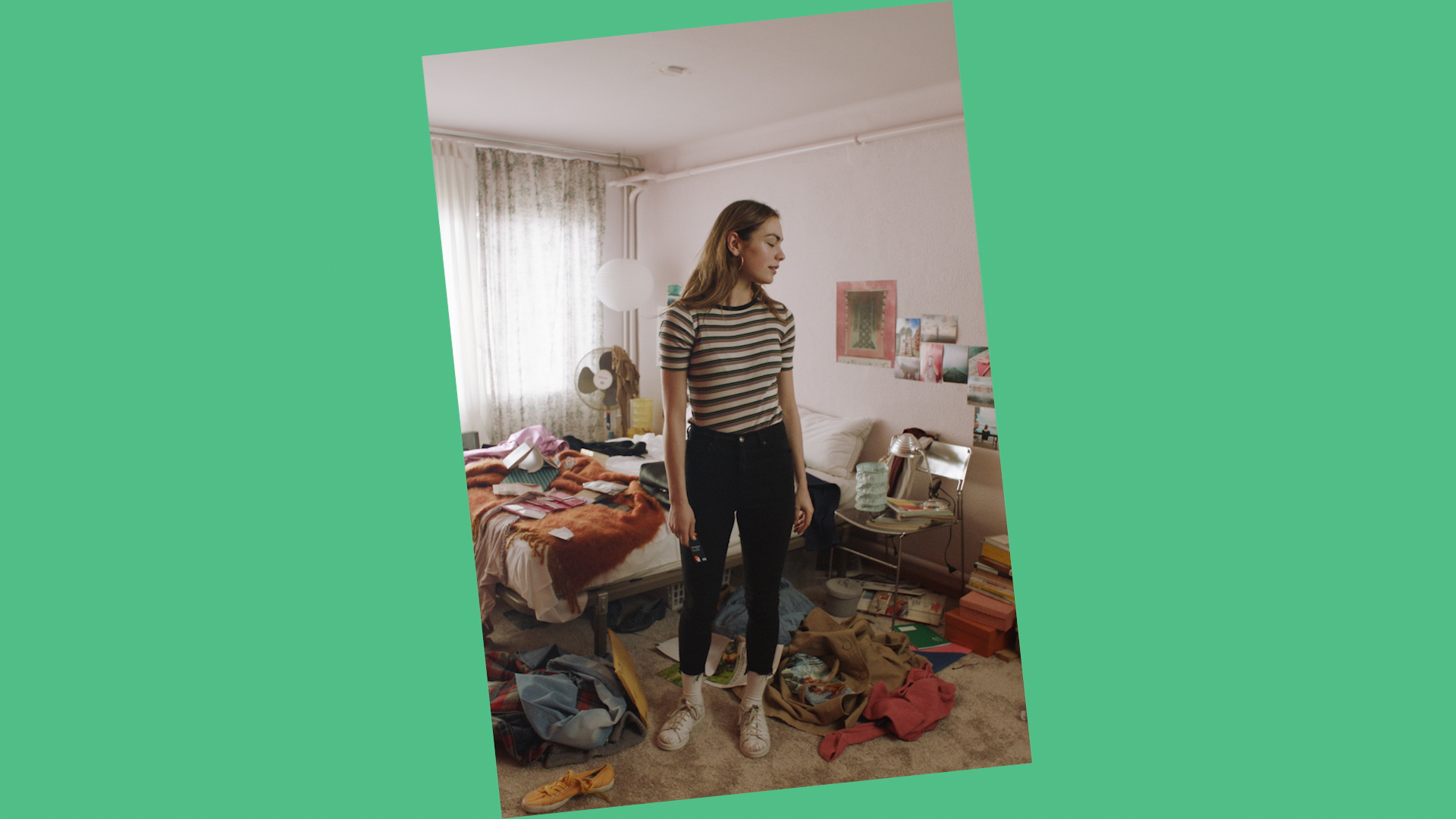 The 30-second TVC broadcast on major channels and the bank's social networks is called "Simply". As well as being an advert for the bank's concept (mobile, simple and accessible), it also has all the hallmarks and features of mobile content: a vertical format and a cool, casual and spontaneous tone and style. It is divided into five-second clips broadcast on TV and social media.

The campaign focuses on the bank's services as well as its concept. A set of four 12-second films made for TV and social networks, plus visuals for press and billboard coverage, showcase the four biggest features (mobile payment, transfers by text message, card blocking and unblocking, and instantly updated balances). The content for digital display and media is slightly different, focussing on the only scene with actions related to mobile usage. ​